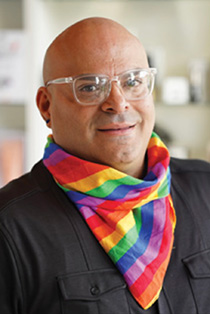 "Gigi" GILBERT SALAS
Designer Stylist
"Gigi" (Gilbert Salas) has worked with thousands of faces in a career that has spanned more than two decades. His experience and knowledge of cutting and blending techniques give him the edge he needs to tailor a custom look that fits perfectly with each client's unique needs and desires. He enjoys designing both hair and color to create a complete look. Gigi has a flair for matching colors that are best suited to your complexion and stays current with the styles so you never look outdated. Gilbert is able to educate clients so that they leave feeling confident and are able to replicate their look at home.
Gigi knows that most clients do not want to look made-up, but rather, they want to look like the very best versions of themselves. He specializes in texturing techniques and styling. The best part of Gigi's career is making great friends, entertaining people and making them happy
Education: Toni and Guy
Past Work Experience: Multiple salons
Years Licensed: 22
Education: DJ Muldoon – Knowledge Destroys Fear, Alejandro Fernandez – V76 Men's Barbering, Ronnie Stamm – Oribe Hands-on Education, Kien Hoang – Oribe Hands-on Education, Wella Color Education, Goldwell Color Education, Oribe product knowledge, L'Oréal Kérastase professional product knowledge.